RANDY LEROY Senior Mastering Engineer moved to D.C. in 2010 after spending 30 years in Nashville. The Recording Industry Management program at Middle Tennessee State University prepared Randy to work in A&R for CBS Records. Focusing on engineering and production, he then learned mastering from the legendary Glenn Meadows at Masterfonics. Randy continued to refine his skills as the mastering engineer for thousands of albums, including dozens of GRAMMY nominated and winning projects at Final Stage Mastering, before moving to Takoma Park.
DON GODWIN Recording and Mixing Engineer has over 20 years professional experience in music production. He has worked in New York, New Orleans, and Portland, OR operating busy professional recording facilities. Don is also an international performing musician and teaching artist; his experience as an artist, performer, and teacher brings a unique skillset to projects with which he is involved. Don's musical tastes and interests are wide spanning – brass band music from around the globe, experimental electronic, punk/DIY, modern pop and R&B, klezmer, and much more. An avid student of the history of audio recording as well as a voracious consumer of current music, he's always on the quest for new sounds, musical styles, and collaborators.
MIKE PETILLO is Tonal Park's studio manager. He helps book sessions, plan out projects, and assist engineers in recording. Previously he worked for the National Council for the Traditional Arts where he organized technical production for festivals and touring programs. In addition to his managerial role, Mike sometimes tracks, mixes and produces music and podcasts. Mike has nearly two decades of experience playing music. In the 90s and early 2000s, he played guitar and bass for several touring punk groups, and for the past 10 years he has been an active electronic musician in D.C.'s underground dance scene, where he produces and tours as one half of the house/techno duo Protect-U, among other collaborations. Mike co-ran the Future Times label from 2008-2014 and can be heard DJing the occasional party around town.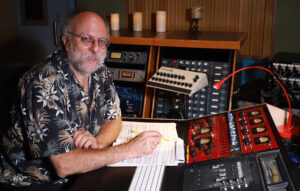 CHARLIE PILZER Chief Engineer was a co-owner of Airshow and the chief engineer in Takoma Park. Over 35 years his path has included performing, producing, and engineering award-winning Celtic, folk, and acoustic music. In addition to mastering many GRAMMY-nominated projects, Charlie received a GRAMMY for mastering and restoration on the Smithsonian Folkways Recordings Anthology of American Folk Music (1997). Charlie designed and built the Takoma Park complex to better pursue his passion for producing and recording, as well as mastering. His broad base of experience and musical knowledge has led to his success in mastering, tracking, and mixing. He has a Bachelor of Music in Music Theory from the University of Michigan School of Music.
SOPHIE ADAMS is a freelance engineer at Tonal Park. She graduated from Elon University with a B.S. in Music Production and Recording Arts, and has experience in artist management, studio tutoring, and is a former intern at Tonal Park. She is also a singer-songwriter and enjoys tracking, editing, and mixing her own and other artists' music. She began playing and recording with her sister and father in a home recording studio when she was eight, covering bands like Cheap Trick, The Verve, and The Pixies. After years of watching her father run his studio, she decided to continue pursuing music production and recording. She has loved living in Takoma Park for the past fifteen years, and is always working on new song ideas.
ASHLEY DONALD is a recording and mixing engineer that has been freelancing from Tonal Park since 2016. In addition to working on music in the studio, she also records and produces podcasts, and does mobile recording. Ashley graduated from Howard University with a B.A. in Audio Production. When not at the studio you can find her at a concert, traveling, or hanging out with her dog Gio.